CONGRATULATIONS, Class of 2021!
Take a look at where our seniors have been accepted!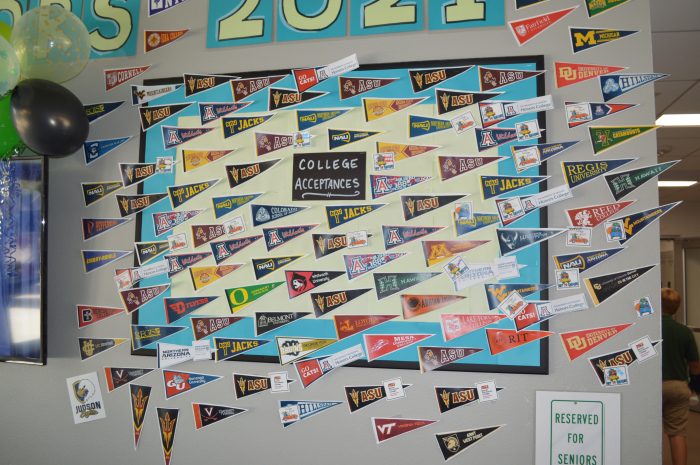 Congratulations to the Class of 2021 on their acceptances!
Adrian College
Arizona State University – Barrett Honors College
Arizona State University-Tempe
Baylor University
Belmont University
Benedictine College
Colorado School of Mines
Cornell University
Embry-Riddle- Prescott
Fairfield University
George Fox University
George Mason University
Gonzaga University
Hillsdale College
Iona College
Lake Forest College
Loyola University Chicago (School of Nursing)
Loyola University Maryland
Mesa Community College
New York University (NYU)
Northern Arizona University
NAU Honors
Pacific Lutheran University
Pepperdine university
Reed College
Regis University
Rochester Institute of Technology
The University of Arizona
The University of Arizona, Honors
United States Military Academy – WestPoint
University of California, Irvine
University of Colorado Denver
University of Dayton
University of Denver
University of Hawaii at Manoa
University of Michigan-Ann Arbor
University of Minnesota-Twin Cities
University of Oregon
University of Vermont
University of Virginia
Virginia Polytechnic Institute and State
West Virginia University
Western Washington University
Whitworth University
---
Congratulations to the Class of 2020 on their acceptances!
The University of Alabama
Arizona State University-Tempe
The University of Arizona
Barnard College of Columbia University
Barrett, The Honors College
Benedictine College
Chandler-Gilbert Community College
Coastal Carolina University
Colorado College
University of Colorado Colorado Springs
Dallas Baptist University
University of Denver
Florida Institute of Technology
Franciscan University of Steubenville
Grand Canyon University-Traditional Campus
Hawaii Pacific University
Hope College
Mesa Community College
University of New Mexico-Main Campus (Engineering)
Northern Arizona University
University of Northern Colorado
Seton Hall University
St. John's College
The Master's University
University of Virginia-Main Campus (School of Engineering)
Humboldt State University
Click this link to view list of the acceptances for the classes of 2015, 2016, 2017, 2018, and 2019.
***PDF files can be read with a pdf reader, such as from Adobe Acrobat Reader